If you own or operate a carwash you know the importance of providing shade & shelter for the employees and for your customer's vehicle. And providing that for your outside lounge/waiting areas is appreciated by customers and therefore, should be considered as well. All this is especially true on those hot afternoons when you have the busiest times. To get the best finish on the vehicle and keep a cool head while cleaning vehicle interiors, you need shade. That's what Absolute Steel's SofTop Shade Canopy Kit provides you with – SHADE. And we get the job done with a modest capital expenditure and no compromise of quality.
SofTop Shade Canopy Kit Basics
The canopy kit comes in two sizes — 12-by-12 feet, and 18-by-20 feet. Both are cable-tensioned shade systems that are a breeze to set up. The galvanized tubular steel frame is protected by multiple layers of clear coat applied over the galvanized steel. This gives it a superior rust resistance. As a source manufacturer we only trust the integrity of the structural steel supplied to us by American mills. Why? It's American; we can trust the specifications of it.
Our SofTop Canopy. Kits offer fantastic sun protection, blocking 85% of the sun's harmful UV rays, so it's popular in recreational settings — for barbecues, pools, patios, playgrounds, and more. But the SofTop is really a cost-effective way to protect outside work environments such as a carwash team detailing upscale automobiles.
What Colors Can I Pick?
The frame system for the SofTop is provided only in galvanized steel but you can apply high-quality metal paint and primer for a custom touch. You'll need to choose your canopy color, though, and the two choices are neutral tan or a vibrant "nautical blue."
How Hard is it to Put Up?
We've got a patent pending on our "Strong Arm" corner brackets that make installation and canopy tension adjustments a cinch. All you need is a wrench to pull the canopy tight. In fact, it's so easy to erect that we've received thank-you letters from single moms who've said "the SofTop was one of the easiest projects I'd ever done."
But Does it Stay Up?
Proper installation is required and that's why we need to know if you want to install it in the ground, in concrete, or above ground. Tell us what your plans are so we can make the required adjustments at this end and you should be fine.
You  may need a building permit, so the 18×20-foot systems have engineering plans that we can provide unstamped copies for free. For stamped and sealed original engineering with all structural calculations, it's $450. Such engineering is likely unnecessary for the 12×12 canopy since its 144-square-foot dimensions are below most municipal thresholds for building permits.
Either way, these canopies are wind-rated up to 90 miles an hour sustained winds. The SofTop frame can stand all year long, but the canopy should come down in windstorms expected to blast past 90mph, or if the snow forecast projects over 20 psf of snow load. The good news is the fabric canopy is easily installed and removed – so you can just re-install the canopy when the weather passes.
What Does it Cost?
Because Absolute Steel is the source manufacturer of the SofTop Shade Canopy, nobody else's price even comes close — at $1795 the 18-by-20-foot SofTop comes in as much as one third the cost of the closest competitor and its made in the USA.
Are you elsewhere in the world? We deliver world-wide. Talk to us about your requirements and we can go over the different options for delivery to you.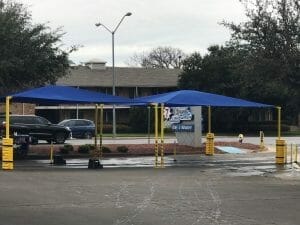 What Are You Waiting For?
At your carwash, details matter. You know wax is best buffed off in the shade. When tackling vehicle interiors, hot sunny days make the work gruelling. These take a toll on your staff and can affect job performance. With the SoftTop, work will be more pleasant and you'll get more out of your employees with protection from UV-rays and rain. With an installation this easy, all you need is space and you'll be ready to take cover.
Whatever information you need, we're here to talk. Call us today to learn more or place your order today.