Manufacturing Quality Equestrian and Livestock Shelters Since 1999
Mare Motels & Equestrian Shelters
Mare Motel & Horse Shelter Options
Below are general examples of the types of horse shelters we can create for you. If you need a different size, height, or any other configuration, please check with us.
Continuous Slope with Aisle
The Continuous Slope with Aisle is probably the most popular mare motel out there, provided land space is not an issue. The covered center aisle keeps storage items dry and provides a sheltered area to access or tack up your horse as well.
Standard sizing is a 14' wide center aisle. Peak height is 14' 3" and the roof line drops down to 9' 6" high at its lowest height which is plenty of height to keep out of the way of your horses.
We can make them in most any size you wish, but standard sizing is 38′ wide x 24′ deep with 4 stalls. Corral option and/or turn-outs can be added.
.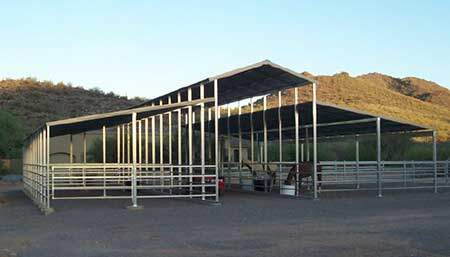 Raised Aisle Open Air Barn
No single structure completes the equestrian look like the Raised Aisle open air barn. The height variables you can achieve with the raised aisle can even give you the flexibility to store your RV or horse trailer in the center.
When one considers Absolute Steel has the flexibility to create up to 15' 6" high sidewalls on the raised center and up to 40 feet wide on the center aisle, the possibilities are endless!
Standard sizing is 14 feet wide on the center aisle and that center aisle has a 15.5 foot eave height. The stalls are 12' x 12' and if you're wanting the model with turnouts, that gives your horse a 12' x 24' corral, with 12 feet of it being covered.
Shed Row Mare Motel
Our mare motel shed row horse mare motel is made with the same quality materials as all of our structures and assembly really is a snap!
A shed row is a single sloped structure with no center aisle. A shed row is a wise choice if space is limited and if you want, you can still get shelter for your tack and feed by converting one stall into a feed and/or tack room.  Just use our channel and slip 2 x 8's or 2 x 6's, thereby creating walls.  Finish the ceiling off in most any suitable material.
Available with any number of stalls, you can order the shed row as just the main structure for those of you who would prefer using portable corral panels or building your own corrals, or you can purchase the main structure with 12' x 12' corrals, or the main structure with 12' x 24'deep turnouts.
About Absolute Steel
Since 1999, Absolute Steel has been manufacturing and selling a wide range of steel frame buildings, including barndominiums. Our staff can help you design and build the structure you want. That's because we are NOT simply a seller of barndominiums, we MANUFACTURE them right here in our Texas facility and use only HIGH QUALITY STEEL.  Your frame system and exterior paneling are ENGINEERED EASY to install, and will hold up to the toughest elements for years to come.  All frames and exterior panels come with ROCK SOLID WARRANTIES too.