Manufacturing Quality Carport Systems Since 1999
DIY Carport and Shade Shelter Kits
Select Your Carport Style
Absolute Steel carports and RV covers are designed differently for different environments and they'll fit different budgets as well. We are known across America for steel carports and RV covers that fit into settings that most other steel structures just wouldn't work.
Sonoran (Standard) Carport
This is the style that started it all and is still going strong. These versatile steel carports and RV covers come in a range of widths from 10' to 40' and eave heights from 7' to 15.5. The main frame system is 2" x 3" galvanized tube steel and in the wider and taller models, we use a rugged 14 gauge 2" x 4" main frame system.
Sonoran carports feature a rounded eave and the panels are applied in a horizontal fashion. This means it's very simple, if you wish, to extend the panels down one or both sides for extra protection against the Texas elements.
We offer the Sonoran carport or RV cover in 5' On Center frames which will meet most Texas building codes and go down to 4' On Center and even 3' On Center for hurricane or mountain environments.
Sierra Carport
Built much the same as the Standard or Sonoran carport, the Sierra has roof panels affixed so that the panels run from the peak to eave, shedding water and other weather better.
For customers that live in an area having snow loads in excess of 35 psf, the Sierra is what we recommend.
Having the panels attached as described above requires additional trim pieces such as ridge cap etc. And in order to run the panels in this fashion this steel carport requires purlins or cross members for those parts to attach to the roof. These extra parts will increase the cost a bit over the Standard or Sonoran steel carport.
Combo Carport
The Combo as its name implies is a steel carport structure with additional enclosed storage for odds and ends; its part carport and part building. The storage room can be put on the side or at the end as these two pictures illustrate. This is a great structure because one can avoid the costs of a garage and yet have some private storage or a workshop while getting some protection for vehicles. The panels can be applied horizontally like a Sonoran or Standard carport or like the Sierra offers – vertical.
Your access door can be placed just about anywhere but we suggest you think that out so you don't have to move vehicles to get into the storage room/workshop.
San Tan Carport
The San Tan carport is limited to only a few sizes. The San Tan carport most resembles the Sierra except it has less trim components. This style gives you eave overhangs which can vary depending upon the width of the structure but is priced less than other styles that offer the eave overhang due to less in trim costs.
Installing the San Tan is very simple and not time consuming—basic common tools and 2 people and you can complete the job in a few hours.
SofTop Carport
The SofTop carport is the best cable-tensioned cover on the market today. You can spend a lot more than we charge but the others probably will not engineer for up to 90 mph sustained winds or meet a 30 psf Roof Load. This is made from the same rugged steel specifications as all our steel structures and will never look like those trashy carports that fall over in a year or so. It features:
85% UV sun block
The material has a 10 YEAR WARRANTY against UV degradation and material flaws.
Water resistant
12′ x 12′ size is only $2100. Our 18′ x 20′ large size is $2400. Prices are cash & carry – shipping extra.
Single Slope Carport
The Single Slope carport serves a variety of needs – equipment covers, livestock shades, apartment parking, hay storage and of course, just a simple two car carport. It features clean lines and an unobstructed profile so it's a great covered parking structure when you'd like a carport that as invisible as a carport can be.
We have designed and supplied these to job sites to cover one car and up to several hundred. It's a simple structure and the easy installation reflects that.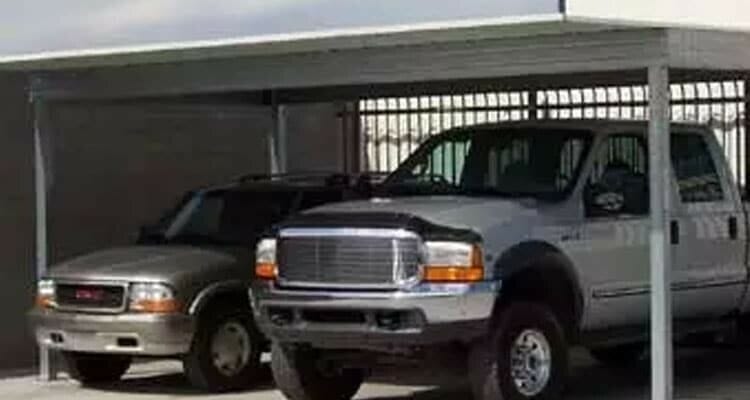 The Absolute Steel Advantage
Engineered EASY To Install
Variety of Color Choices
Available in over 25 color options, our painted steel panels come with the best paint warranty in the business: guaranteed not to fade, chalk or peel for 25, 30 and even 50 years, depending upon which panel you choose.  View our color options here.
Steel Frame System
Our steel carports and RV covers are made only from the same engineered steel that we use in our metal buildings. We do this because that's the only assurance we have that the steel meets engineering specifications. View steel frame system details.

Delivered to your job site in a neat bundle
No forklifts or special equipment needed.
Easy slip-fit frame connections make it simple.
Made in Terrell, TX.
Concrete and Foundation Information
There are a few ways to anchor your Texas steel carport or RV cover frame system. The primary difference is whether you intend to anchor it to the ground or to concrete.
Engineered Plans
You won't need engineered plans for any county in Texas for a steel carport or RV cover. If you live in an incorporated town or city, you need to check with your local building department. We do offer optional stamped, engineered plans with your carport kit.
Texas Made and Proud of It
We have earned a reputation for the quality of our materials, excellent customer service, integrity and reliability. We aren't middlemen. We are the manufacturers of the steel frame system and other quality structures we offer. When you have questions or concerns, you know exactly where to reach us. We're proud to offer the best warranty in the business.
We are NOT simply a seller of carport kits, we MANUFACTURE them right here in our Texas facility and use only high quality engineered steel.
Your frame system and exterior paneling are ENGINEERED EASY to install, and will hold up to the toughest elements for years to come. All frames and exterior panels come with ROCK SOLID WARRANTIES too.
Let's Start the Conversation…