When it comes to housing styles Texans know and love, the Modern Farmhouse isn't that modern after all. The "Farmhouse" style has been home for Texans for nearly three centuries. The "modern" twist on Farmhouse is all the rage in today's barndominium market because it's got the airiness and comfort folks crave.
The "Texas Modern Farmhouse" remains true to the practical, functional design first lived-in by European settlers in the 1700s. It's a housing style befitting the land and the ranching, agricultural lifestyle so common across the Lone Star State.
Back then, settlers needed homes that worked as hard and smart as they did. Today's Modern Farmhouse owner wants a hard-working home that feels good to live in, because living well is what the style is all about.
Exterior Features in Modern Farmhouse Style Barndominiums
There are no set rules for how a Farmhouse style home looks. In fact, some features can give vibes like Cottage- and Craftsman-style homes, but there are a few fixed trends in the Modern Farmhouse that you'll soon spot.
Gables:
Steep pitches of 12:12 and angular gables are trademarks for these homes. Looking at the gable, it should appear at a 45-degree angle if pitched correctly. Many Modern Farmhouses have more than one gable in their design. In addition to steep gables, modern farmhouse barndominium builders like to go with the traditional gambrel barn design, where the pitches are not as steep due to the design of the gambrel roof.
Cladding:
Lap siding, clapboard, board-and-batten — whether the siding is vertical or horizontal, Farmhouse style has a siding-style exterior. Historically, it was wood, but Modern Farmhouses use anything from HardiePlank to metal siding.
Porch life:
Countryside living needs a big porch — a big, deep, open porch. Farmhouse homes are about living indoors and out, but with shade.  A porch swing isn't mandatory but gets bonus points.
Big and varied:
Unlike the Craftsman- and Cottage-style homes, the Modern Farmhouse is on the larger side. It's a big house that often has distinct exterior sections, enhanced by double-hung windows with nice trim, gables, and other features.
Common Features Inside Modern Farmhouse
When it comes to interiors, Modern Farmhouse style isn't just about adorable décor and big dining tables. It's about how it feels, how spacious and open it is, and how the home accommodates your lifestyle.
Airy interior:
Open rooms, higher ceilings, lots of natural light from abundant double-hung windows — all sorts of features that mean being inside never feels like you're cooped up. It's open, free, and comfortable.
White or light color schemes:
Color isn't shunned, but it's seldom dominant in the Modern Farmhouse interior style. Whites, creams, and beiges and other light neutrals are typical, and enhance the airy, open feel.
Souped-up kitchens:
Anyone who's ever been on a farm knows a thing or two about eatin' good and eatin' big. It's not mandatory, but farms need big kitchens! And today's Modern Farmhouse kitchen isn't the quaint kitchen of old. Ideally, an island counter allows folks to gather around while big-batch dinners are cooked on a generous stove, with lighting all around that's bright and cheery but also task-oriented.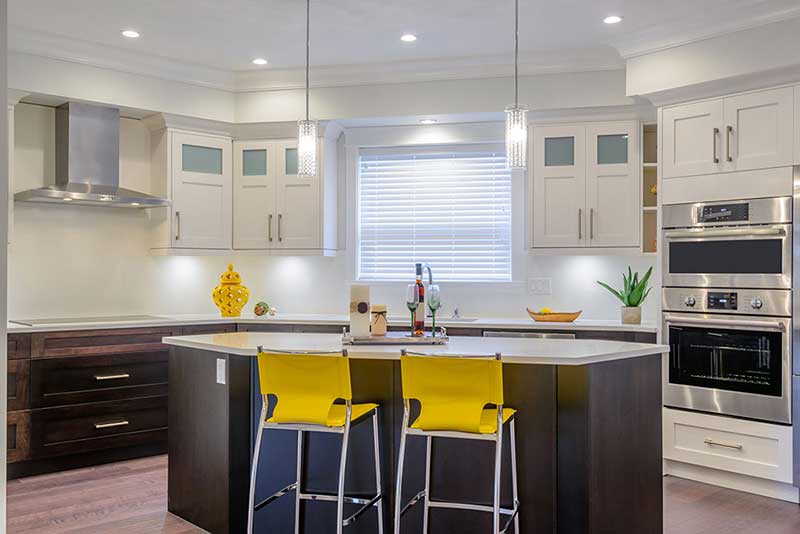 On Trend, But Timeless Too
You probably see the Texas Modern Farmhouse all over design shows and websites. It may feel like a trend, but this is style not going away. For nearly 300 years, Texans have loved the Farmhouse life because it's bright, it's comfortable, and it's a home that just works.
For homes that keep working for decades, homeowners in Texas turn to Absolute Metal for metal-framed homes rated to beat the best of what Mother Nature throws at 'em. Talk to us if you want to know about how flexible and customizable our homes can be.